Add Another Sample
You have room in your basket for more samples. Click on the '+' to keep exploring.
Keep browsing
---
Create a room with classic style using shutters Published:
25 September 2019
Updated:
26 October 2023
Go graphic with deeper tones
Selecting black or deeper tones in a room can give your décor a striking finish. The black shutters in this kitchen are emphasised by the line of dark and light. The choice of the sharply angled chair legs also fits the theme. The walls are in contrast with the natural fabrics of exposed stone brickwork and neutral chair colours.  While the room is dark, it is helped by the clever balance of light with tier on tier shutters. 
Modern retro
Create the classic warmth of this 1950s kitchen with clever nostalgic design choices that are complemented by modern touches. The cool duck egg green tones of the wall and warmer cream of the classic café style shutters give a fifties-inspired finish. The natural material of the chairs and low sideboard also share classic fifties influences that are brought up to date with a sculptural light and glass table. The café shutters cover the bottom half of the window in an elegant cream colour that is perfectly echoed with the choice of furniture.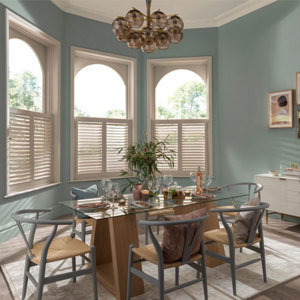 Nature-inspired colour
Shutters are the perfect excuse to add a strong colour to a neutral décor. The traditional touches in this room such as the sink, mirror and radiator are given an instant update with this fresh green shade. Warming up cooler colours can help us to feel cosier or even more relaxed and get a nature-inspired room. Solid shutters look great in deep navy or brighter colours but also suits natural wood finishes for a nod to the Scandinavian trend.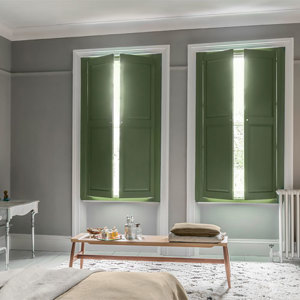 Wooden or waterproof?
While nothing beats the feel of real wood, it's worth thinking about the room you want them to go into. Wetter rooms like bathrooms and kitchens can warp wood or leave watermarks behind ruining the effect. Vinyl is a sophisticated alternative to wood in these spaces which can give an elegant finish.