How to use floral fabrics in your home
Floral fabrics
As spring draws nearer you may be getting the itch to breathe new life into your windows, and dressing them in beautiful floral fabrics is a simple way to do just that. Whatever your style, a floral pattern can help lift the mood of an entire room, and with lighter colours even draw more natural light into a space. But like any vibrant design, it is always important to choose a pattern that will complement your home and not overpower it.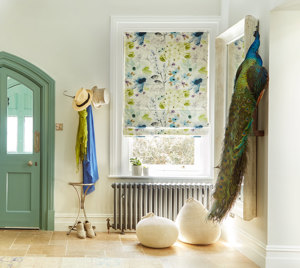 Working with organic patterns
Almost all patterns can be split into either organic or geometric, and floral patterns are most definitely organic. These designs tend to have less of a definitive structure are usually inspired by nature. Sometimes this can be very literal and other times it might be more abstract. But, typically, there will be a lot of movement across the design that has the added benefit of hiding where the pattern repeats itself.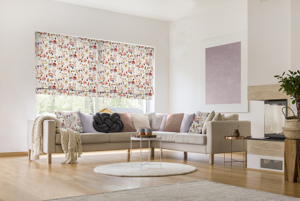 Choosing a complementing design
Finding the right floral pattern is mainly down to its dominant features. Choose a colour or theme; look for a floral pattern that incorporates that and then style your room around it. Whether that is using the main fabric colour to draw the eye, or picking accents as here, where the blue flowers on the blind complement the sofa and other accessories.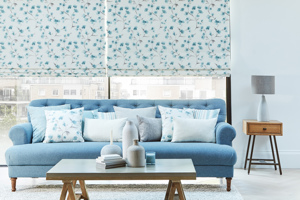 Go bold
Floral patterns are not just about sprigs of flower and dainty designs, they can be big and bold too. If you're going to be bold then something like these Phyllis Fern Green Roman blinds is a great way of doing so. The strong green is a really versatile colour but there's a delicacy to the print that stops it from being too much. Gently pulling out both the colour and the design to use in furniture and accessories really presents a united look. The large fern that echoes the pattern is the icing on the cake.