How To Bring Warm Colours Into Your Home
Bringing warm colours into your home can be a quick way to update a room or add a fun twist to your decor.  Trying to decide which colours work in different rooms can be challenging. Putting a vibrant red into a kitchen might work well but what about the bedroom where you go to relax?
Warm colours do more than add a bit of vibrancy to your home, they can also make rooms seem cosier. Certain shades (depending on material) have an effect on visible light that streams into your home, reflecting the light they absorb and therefore making a room feel brighter and warmer.
How do you get warm colours to compliment your decorating scheme without going overboard?  We've asked some of our experienced design consultants to give us their tips on how to incorporate some of our warmest shades.
Yellow
Yellow doesn't have to be a daunting colour to decorate with. A touch of yellow can really help to make your room more cheerful. Using yellow as an accent colour like these Duette blinds in Provincial Gold can really help without the commitment (or mess) of painting an entire wall.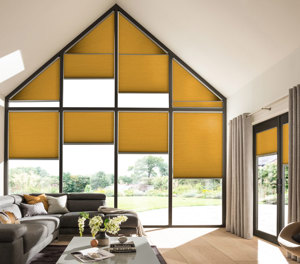 Warm Cream
Cream is a traditional yet versatile colour perfect for adding warmth without the commitment of very bright colour.  The caramel tones of this Duette blind help to brighten the room by adding to the light.  Alternatively, cream shades can be a great way of introducing neutral shades into a more colourful home.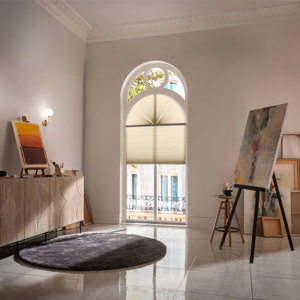 Red
Red is a statement colour when used in decorating. Too much can be overpowering but it can look beautifully dramatic when used as an accent piece. The colour is echoed throughout the room by the subtle placement of colourful accessories on the shelves giving a bright and modern feel.
A neutral blind placed near a red accessory like a sofa or rug could also work. Using a neutral colour that contrasts with or features red undertones will enable you to get the best from your décor.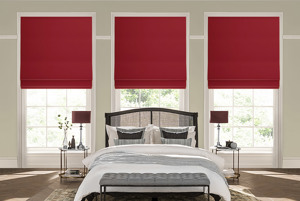 Coral
Coral is a warm and cosy colour that is both fun and contemporary in the home. It can be balanced easily with neutrals or placed near metallic like copper. Navy and green also work with coral for a quirky modern twist. Shutters look particularly stunning in this shade like our Tier-on-Tier style. Perfect for making the most of the daylight while maintaining your privacy.